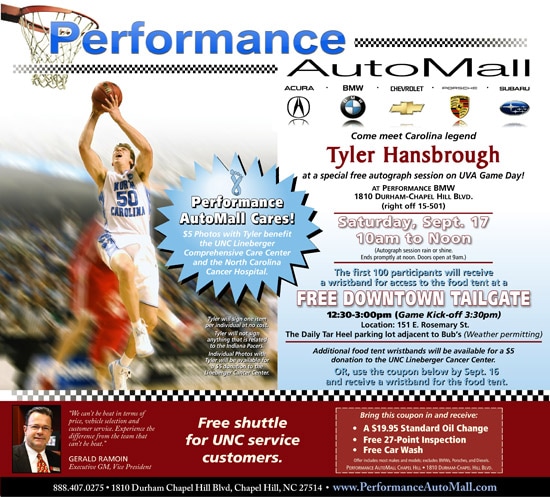 Performance AutoMall will be hosting a FREE autograph session with Tarheel legend Tyler Hansbrough Saturday, September 17th from 10 am to noon at Performance BMW! The first 100 people in line for the autograph session will be given a wristband for FREE FOOD at Performance AutoMall's DOWNTOWN TAILGATE before the UNC/Virgina football game. The tailgate will begin at 1 pm and end at 3 pm.
During Tyler's autograph session at Performance BMW, you will be able to take a photo with Tyler for a $5 contribution to the UNC Lineberger Comprehensive Cancer Center and the North Carolina Cancer Hospital. Tyler will sign one item per individual for FREE. Please note, Tyler will not be able to sign anything that is Pacer's related. See you on the 17th!!

To check out our "Psyched for Psycho T" videos remembering some of Tyler Hansbrough's best UNC moments, become a fan of Performance AutoMall on Facebook
!